OUR IMPACT
tools for success
To find success, each and every person needs support. We provide social and culture guidance, jobs, academic assistance, and language services. We work tirelessly to strengthen family relationships and promote youth leadership.
US Poverty Income for family of 8
San Francisco median income
San Francisco Southeast Asian median earning
our values
Respect. Cultural Pride. Integrity. Compassion.
We have grown from a one-room office that provided translation services, English as a Second Language, and vocational classes, into a locally and nationally recognized multi-service center. We proudly serve all youth, of all backgrounds, throughout San Francisco.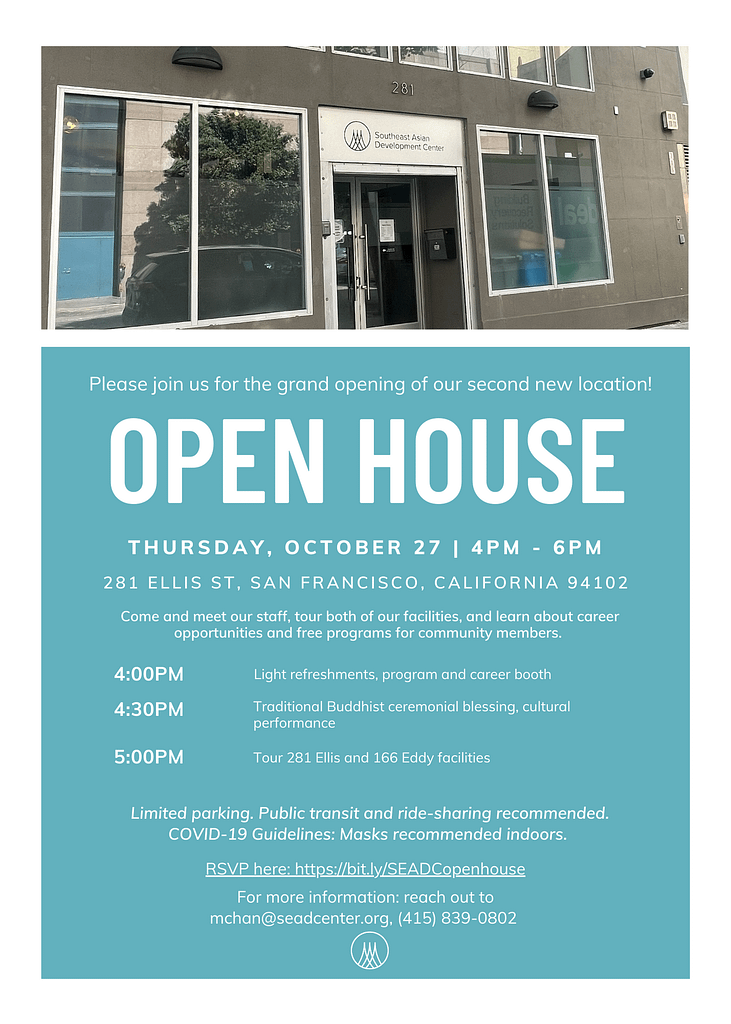 Join us on October 27th from 4:00PM to 6:00PM for our grand opening of our second office! 
Come meet our staff, learn about our programs and services, and tour both of our offices!
RSVP on our Eventbrite page: bit.ly/SEADCopenhouse 
Follow updates for this event on our Facebook page:
https://www.facebook.com/events/1147159189245357
About our new office:
Our second office, located at 281 Ellis, is one block away from our current headquarters at 166 Eddy Street. 281 Ellis offers more restrooms, more staff workstations, small conference rooms, and a second large program workshop space. Our expansion to 281 Ellis allows us to provide high quality service and serve more clients in a comfortable, inviting space for staff and clients. We are excited to welcome community members to our second office!
make a difference
help us reach our full potential
When we say that you can truly make a difference in a youth's life, it's not just words. Our programs, resources, and staff are transforming circumstances for real people, every day. Without your support, we couldn't change the narrative for young, displaced, and vulnerable Southeast Asian community members. Your donation makes a huge impact.